654# SamKey TMO Account - [ 40 Credits ] - [ 24x7 ]
Delivery Time: 1-60 mins

Price: $ 56

Order Verifiable
This Order Cancellation Not Possible If Order In Process
Service Available 24/7
Service Guaranteed
Download SamKey TMO EXE & Samsung Phone Driver
tmobile phones can unlock
Download :
http://www.samkey.org/SamKEYTMO2300.exe
here is the forum information about SamKey
http://samkey.org/forum/Thread-What-is-SamKEY-TMO?pid=92#pid92
Software Exe
http://www.samkey.org/SamKEYTMO2200.exe
http://www.samkey.org/SamKEYTMO2061.exe
http://www.samkey.org/SamKEYTMO205.exe
http://www.samkey.org/SamKEYTMO204.exe
- Please Open Software in your computer and get one FingerPrint (System ID)
- Place Order on website and Provide us the FingerPrint ID in the requested Field.
- you will get instant one user name and password from us in 1-6 Hours.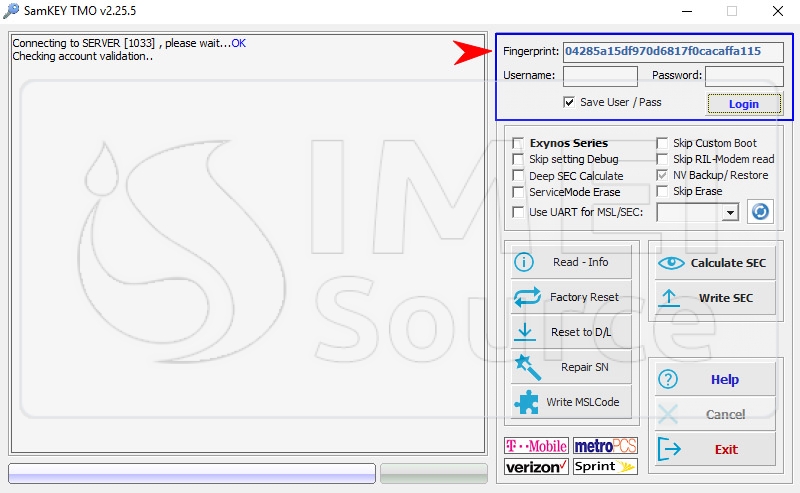 About SamKey TMO
SamKEY TMO is special software for Unlock T-Mobile, MetroPCS, Verizon and Sprint operator locked phones.
Which do NOT ASKING FOR NETWORK UNLOCK CODE,
and just Show : Invalid SIM Card (APP UNLOCK).
SamKey TMO direct unlock Samsung T-Mobile Phone without App Unlock, No Root, Keep orignal IMEI, Unlock all Samsung T-Mobile: Galaxy Note8, Galaxy S8 S8 Plus,… SamKey T-Mobile Unlock Galaxy S7 S7 Edge T-Mobile.

Few Major Clarification

* Only USB cable is required for unlock
* This solution makes Phone PERMANENT UNLOCK so even after updating firmware also phone will stay unlocked
* Software will be locked on one pc with finger print
* Software will work only when you have phone in hand
(means usb sharing will not work)

SamKey TMO Features

– Direct permanent unlock Samsung T-Mobile, MetroPCS, Sprint and Verizion.

– Support unlock all Samsung T-Mobile phone model 2017:
Galaxy Note8, Galaxy S8 S8 Plus, Galaxy S7 S7 Edge, Galaxy J7 Prime,…

– No change IMEI – keep orignal IMEI after unlocked.

– Phone's WARRANTY, USER-DATA, MEMORY remains Untouched.

– No ROOT, no Knox trip.

– No need to Downgrade or flash your phone.

– Works instantly, fast.

– Fully Independent server, working 24/7.

– Supports Latest 2017 Firmware versions.

– Supports all Android 4, 5, 6, 7, 7.1 and Android 8.0

– Supports Latest 2017 security Patches.

Model Supported

Exynos Phones (10 Credits):
SM-S337TL (Galaxy J3 Luna Pro TracFone)
SM-J727T (Galaxy J7 Prime T-Mobile)
SM-J727T1 (Galaxy J7 Prime MetroPCS)
SM-J327T (T-Mobile)
SM-J327T1 (MetroPCS)

Qualcomm Phones (20 Credits):

SM-G892U (Galaxy S8 Active) T-Mobile/MetroPCS/Verizon/Sprint/…
SM-G950U (Galaxy S8 T-Mobile/MetroPCS/Verizon/Sprint/…)
SM-G955U (Galaxy S8+ T-Mobile/MetroPCS/Verizon/Sprint/…)
SM-N950U (Galaxy Note8 T-Mobile/MetroPCS/Verizon/Sprint/…)
SM-G930T (Galaxy S7 T-Mobile)
SM-G935T (Galaxy S7 edge T-Mobile)
SM-G930T1 (Galaxy S7 MetroPCS)
SM-G935T1 (Galaxy S7 edge MetroPCS)
SM-G930P (Galaxy S7 Sprint)
SM-G935P (Galaxy S7 edge Sprint)
SM-G930V (Galaxy S7 Verizon)
SM-G935V (Galaxy S7 edge Verizon)
SM-N930T (Galaxy Note7 T-Mobile)
SM-N930T1 (Galaxy Note7 MetroPCS)
SM-N930V (Galaxy Note7 Verizon)
SM-N930P (Galaxy Note7 Sprint)